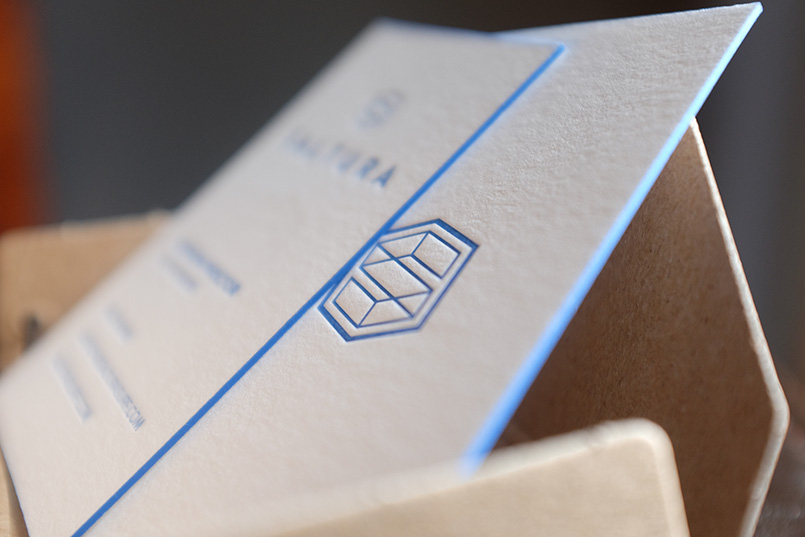 I'm pleased to announce we are now offering edge painting as one of our capabilities!
The process of edge painting, or inking the edges of the cards, is a service I've been wanting to offer for some time. The technique is tricky to perfect – it's time consuming and a challange to produce consistent, quality results. If done incorrectly, the paint can seep into the edges of the cards and bleed through to the face.
Through trial and error I've found a process I'm very comfortable with that involves clamping small stacks of freshly cut cards and using an airbrush to finish the edges. The flow of paint through the airbrush, sharpness of the knife on the paper cutter, clamping pressure, drying time, and card separation are just a few variables that effect the final edge painted card.
Consideration for Designers
Paper
We prefer to edge paint Crane's double thick Lettra (pictured above), which is 600gsm (220lb). Other quality papers of similar thickness will also work well. We can't edge paint black or dark paper yet.

Color
It's best to use primary / bold colors for the edges of the card. If you're using a subtle color for the letterpress ink, it's difficult to perfectly match that color to the edges. This is because the letterpress ink isn't the same ink used to paint the edges.

Quantity
To start out, we are currently only taking short runs (100 - 250 card orders) for edge painting work.